Skip to Content
Metal Coating Services in Atlanta, GA
Three Different Metal Coating Services
Because you care about your metals and materials, you want to protect them with sturdy and sharp-looking coatings. At Eco-Clean Inc., we offer powder coating, wet coating, and oil coating services for all industries and manufacturers. Coating will protect your metal. Different coatings offer different levels of protection, depending on what you're protecting your metal from and what type of metal you have. In some cases, like oil coating, you may need the coating to act as a lubricant for screws, fasteners, bolts, and other objects that require less friction. Contact us for a free estimate on your metal coating needs.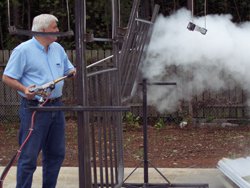 The most popular type of metal coating is powder coating. When you want to have a clean, polished look to your material while protecting it from the elements more than paint would, this is your best bet. It's far superior to paint as it is resistant to chips, cracks, chemicals, impacts, and abrasions.
We use wet coating for products that need long term coating protection. Depending on your materials, we will protect your product to the paint supplier specification. Wet coating is a fast and cost-effective way to protect your materials for their lifetime.
Oil Coating
Oil coating protects your metal from corrosion while allowing your newly protected materials to be easily handled. It requires less surface preparation like powder coating. The coating is self-sealing and resistant to run-off.
Looking for Comprehensive, Reliable Cost Estimate?